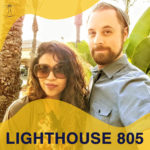 We know that God's promises are "yes and amen"; but how do we activate them in our lives to change the lives around us for the kingdom? That's today's message "Producing Promise" in our "Change Your City" series.
The reasons why Jesus was able to change His city
Connected to the God

Connected to Community

Connected to Calling
The disciples were able to change their cities because
Connected to the God

Connected to Community

Connected to Calling
We are hyper-focusing on what it means to be connected to God today
There were times Jesus chose solitude over people just to pray.
We are looking at the reasons why we need to choose solitude and prayer to stay connected to God
To prepare for something big
Luke 4:1-2, 14-15.

Then Jesus, full of the Holy Spirit, returned from the Jordan River. He was led by the Spirit in the wilderness,[a] 2 where he was tempted by the devil for forty days. Jesus ate nothing all that time and became very hungry.

14 Then Jesus returned to Galilee, filled with the Holy Spirit's power. Reports about him spread quickly through the whole region. 15 He taught regularly in their synagogues and was praised by everyone.
Jesus was preparing for His public ministry. Prayer is how we prepare.
To rest after hard work
Mark 6:30-32

30 The apostles returned to Jesus from their ministry tour and told him all they had done and taught. 31 Then Jesus said, "Let's go off by ourselves to a quiet place and rest awhile." He said this because there were so many people coming and going that Jesus and his apostles didn't even have time to eat. 32 So they left by boat for a quiet place, where they could be alone.
Jesus sent the 12 disciples out. They returned and Jesus had them rest. This represents Church. We work during the week, and then rest on Sunday to go work next week. We rest to prepare.
To grieve
Matthew 14:1-13

14 When Herod Antipas, the ruler of Galilee,[a] heard about Jesus, 2 he said to his advisers, "This must be John the Baptist raised from the dead! That is why he can do such miracles." 3 For Herod had arrested and imprisoned John as a favor to his wife Herodias (the former wife of Herod's brother Philip). 4 John had been telling Herod, "It is against God's law for you to marry her." 5 Herod wanted to kill John, but he was afraid of a riot, because all the people believed John was a prophet. 6 But at a birthday party for Herod, Herodias's daughter performed a dance that greatly pleased him, 7 so he promised with a vow to give her anything she wanted. 8 At her mother's urging, the girl said, "I want the head of John the Baptist on a tray!" 9 Then the king regretted what he had said; but because of the vow he had made in front of his guests, he issued the necessary orders. 10 So John was beheaded in the prison, 11 and his head was brought on a tray and given to the girl, who took it to her mother. 12 Later, John's disciples came for his body and buried it. Then they went and told Jesus what had happened. 13 As soon as Jesus heard the news, he left in a boat to a remote area to be alone. But the crowds heard where he was headed and followed on foot from many towns.
John the Baptist was beheaded – Jesus went away to grieve. 
Before making an important decision
Luke 6:12-13.

12 One day soon afterward Jesus went up on a mountain to pray, and he prayed to God all night. 13 At daybreak he called together all of his disciples and chose twelve of them to be apostles. Here are their names:
Jesus prayed all night before making a huge decision.
During Crisis
Luke 22:39-44

39 Then, accompanied by the disciples, Jesus left the upstairs room and went as usual to the Mount of Olives. 40 There he told them, "Pray that you will not give in to temptation." 41 He walked away, about a stone's throw, and knelt down and prayed, 42 "Father, if you are willing, please take this cup of suffering away from me. Yet I want your will to be done, not mine." 43 Then an angel from heaven appeared and strengthened him. 44 He prayed more fervently, and he was in such agony of spirit that his sweat fell to the ground like great drops of blood.
Jesus knew the crisis situation he was in and what was about to happen. He prayed before and during crises.
Doing Life Together –
How do you handle stress? What do you do well and do bad? What's a recent stressor you are going through?  What does this verse mean to you?
Dealing with stress poorly costs us (time, mental health, energy) in order to see promises producing in our lives we need to be able to handle stress.
Producing Promise
Luke 5:16

16 But Jesus often withdrew to the wilderness for prayer.
Jesus spent time alone praying in solitude in order to produce promise.
Next Steps: Pray daily this week. Pick a topic from today and speak with God daily to grow in that area.