What Is True Faith Built On?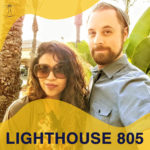 What is our faith founded on? What gives it structure? Can it hold up to all life holds in store for us? In this next message in the Faith Check series – "True Faith", we're talking about just that… time to check our faith. We're doing a deep dive on FAITH through the book and lens of Jeremiah. It's about the faith of believers during their exile, paralleled to the exile of our church members from our building. Want to know what Lighthouse 805 Church is really like? Well today's message is a pretty good look at how we operate. We keep it real. We're a family. We are Holy Spirit lead. We speak truth to one another. Wondering why we aren't meeting together in person yet? Tune in.
Today we're in Jeremiah 32
But first we're going to look at Luke 6:47-49
"47Anyone who comes and listens to me and obeys me 48 is like someone who dug down deep and built a house on solid rock. When a flood came and the river rushed against the house, it was built so well that it didn't even shake. 49 But anyone who hears what I say and doesn't obey me is like someone whose house wasn't built on solid rock. As soon as the river rushed against that house, it was smashed to pieces!"
Your foundation is based on taking action from Jesus. Listen AND obey. They DUG deep, and BUILT.
Not talking about salvation – we're talking about foundation. Salvation is secured, but it's a firm foundation that allows you to grow, receive, and move forward with Christ to the promises God has for us. What does your foundation look like right now? How many of us are finding excuses to not build in this season? Without this foundation set and built on in this current season; we will not be able to hold or carry or move in the vision God has for our next season.
As your Pastor – I'm asking you to commit to making Jesus the foundation in your life now, in this season. Stop making excuses and get rid of anything that has taken up residence in your life distracting you from doing just that.
Jeremiah 32:8-16 "8'Then, just as the Lord had said, my cousin Hanamel came to me in the courtyard of the guard and said, "Buy my field at Anathoth in the territory of Benjamin. Since it is your right to redeem it and possess it, buy it for yourself." 'I knew that this was the word of the Lord; 9so I bought the field at Anathoth from my cousin Hanamel and weighed out for him seventeen shekels of silver. 10I signed and sealed the deed, had it witnessed, and weighed out the silver on the scales. 11I took the deed of purchase – the sealed copy containing the terms and conditions, as well as the unsealed copy – 12and I gave this deed to Baruch son of Neriah, the son of Mahseiah, in the presence of my cousin Hanamel and of the witnesses who had signed the deed and of all the Jews sitting in the courtyard of the guard. 13'In their presence I gave Baruch these instructions: 14"This is what the Lord Almighty, the God of Israel, says: take these documents, both the sealed and unsealed copies of the deed of purchase, and put them in a clay jar so that they will last a long time. 15For this is what the Lord Almighty, the God of Israel, says: houses, fields and vineyards will again be bought in this land." 16'After I had given the deed of purchase to Baruch son of Neriah, I prayed to the Lord:"
Purchase: What is the price we need to pay in this season of our church?
– Time
– Dedication
– Pride
– Reading and studying the Bible
– Genuine worship
– Take action on the Word of God
Through the purchase/setting Jesus as the foundation – 3 things happened:
Public – The purchase was done publicly and had witnesses. This makes us accountable and invites others to do the same. This current season is calling us to do life together outside of the 4 walls of a church building. There's a reason for that. It's foundation building. If we don't actively do it we won't be able to carry the vision for the new season God has for us.
Preserve – Jeremiah asked the purchase documents to be stored in clay pots. This was to preserve them for some time, awhile, the future. The Dead Sea Scrolls lasted in clay pots for 2000 years. When we pay the price of making Jesus our foundation we are preserved. Our faith is stabilized. It doesn't fluctuate up and down with the weather or circumstances. We are steady.
Patience – "When are we getting back to normal?" "When will we return to normal?" Wrong questions…. Right question…. "Am I ready for the NEW normal?" Are we patiently preparing for the next season? This is not a passive patience. It's like the patience of a farmer who diligently plows deep, straight, consistent furrows. Then sows the right seeds, in preparation of the next harvest. We're not sitting with a book waiting for this season to be over; we're like the farmer from sun up to sun down preparing for what's coming. You can't wait on a crop that hasn't been planted.
NEXT STEPS – Take action to set Jesus as the one and only foundation in your life.