Make Room a New Years resolution for 2020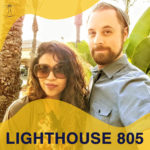 Today's message for Ventura Lighthouse 805 church is all about what God has in store for 2020. It's a message of vision, faithfulness, and purpose. Are you making room for God to do amazing things this year?
Follow along with Pastor Matt here:
Habakkuk 2:3 The vision will still happen at the appointed time. It hurries toward its goal. It won't be a lie. If it's delayed, wait for it. It will certainly happen. It won't be late.
1 – What Prevents Vision
A – Delayed
B – Distracted
C – Detached
---
2 – Faithfully 2020
A – The Finish Line
B – The Prize
C – The Race
---
3 – Making Room in 2020
Isaiah 43:19 I am going to do something new. It is already happening. Don't you recognize it? I will clear a way in the desert. I will make rivers on dry land.
A – Purpose
B – People
C – Presence of God