How to Stop Living in Fear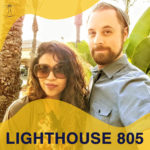 How do we put an end to the fear, anxiety, and despair that the world is peddling these days? What if there was an alternative? Like hope, certainty, and peace. Life has cancelled so many things. Sports have been cancelled, school is cancelled, gatherings are cancelled, even retail therapy is cancelled. But one thing is for certain – they can't cancel HOPE.
We are starting a new series today about HOPE. We are looking at different seasons in our lives when we need to be tethered and connected to HOPE. Like an anchor. During this series we will explore characters in the Bible that have found themselves in caves, caverns and dark places.
Follow along with Pastor Matt here:
HOPE is not a feeling. HOPE is not a wish. HOPE is not a dream. HOPE is not a trend….
HOPE has a name and His name is Jesus.
Hebrews 6:19
This hope is a strong and trustworthy anchor for our souls. It leads us through the curtain into God's inner sanctuary.
1 Samuel 24:1-8
When Saul came back after dealing with the Philistines, he was told, "David is now in the wilderness of En Gedi." Saul took three companies—the best he could find in all Israel—and set out in search of David and his men in the region of Wild Goat Rocks. He came to some sheep pens along the road. There was a cave there and Saul went in to relieve himself. David and his men were huddled far back in the same cave. David's men whispered to him, "Can you believe it? This is the day God was talking about when he said, 'I'll put your enemy in your hands. You can do whatever you want with him.'" Quiet as a cat, David crept up and cut off a piece of Saul's royal robe. Immediately, he felt guilty. He said to his men, "God forbid that I should have done this to my master, God's anointed, that I should so much as raise a finger against him. He's God's anointed!" David held his men in check with these words and wouldn't let them pounce on Saul. Saul got up, left the cave, and went on down the road. Then David stood at the mouth of the cave and called to Saul, "My master! My king!" Saul looked back.
When we face fear we have 3 HOPE Options:
1. Hope in Others
– Type A personalities usually find themselves here.
– Hope in others will leave you disappointed, bitter, resentful, and frustrated.
– if you are constantly disappointed in others – check you heart!
2. Hope in Ourselves
– Type B personalities usually find themselves here.
– This will leave you alienated from people. Others may find you conceited or a know-it-all.
– You will end up frustrating other people.
– You will let yourself down.
3. Hope in Jesus
– This will leave you vulnerable and helpless. Because being anchored to the Son of the living God; will place in you in positions of fear and moments you think to yourself…. it's over.
When you are in a tough spot of fear how do you know your actions represent placing your HOPE in Jesus?
1 – Did God Say It? Is it in the Bible?
2 – Is it morally right? Is it a sin or not?
3 – Does it grow the kingdom of God? Deep and wide. Deep meaning the foundation and depth of your faith. Wide meaning someone else's faith is grown or added into the kingdom of God.
We are collecting hope stories, videos, writings, audio. If you have a hope story would you send it in to [email protected] ? If you need prayer for renewed hope or want to see a realignment of hope in your life; please connect with us here. We have people ready to join you in believing that God really is in control and has a much better outlook in store.