How to Let Go of the Past and Move Forward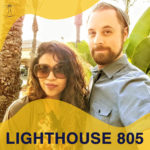 Let go of the past and move forward is the topic behind this weeks Lighthouse 805 Church message. This is the third episode in our Get Behind Me series, titled – Carry Your Cross. This series focuses on our position with Christ Jesus. Isn't it interesting that Matthew 16:24 tells us to "pick up YOUR cross"? and Follow!
You can also watch this message here on our website, or on YouTube – search Lighthouse 805 Church.
Follow along with Pastor Matt here:
Matthew 16:24 "Then Jesus said to his disciples, "If any of you wants to be my follower, you must give up your own way, take up your cross, and follow me."
1 – Give Up Your Way
A – I like when people Do things my way
B – I like when things Go my way
C – And I definitely don't like things In my way
2 – Take Up Your Cross
A – Worry, Fear, & Anxiety
B – Past Hurts
C – Know Everything Already
3 – Follow Jesus
Matthew 16:24 "Then Jesus said to his disciples, "If any of you wants to be my follower, you must give up your own way, take up your cross, and follow me."
A – Leave Our Baggage Behind
B – Move Forward
C – Don't Stop