How to Have Hope When You Feel Forgotten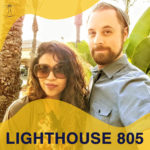 When you feel forgotten it's pretty easy to panic, give into doubts, or feel lost. All those things can also make us want to give up or give in. In this Can't Cancel Hope series we are looking at different seasons in our lives when we need to be tethered and connected to HOPE. Like an anchor. During this series we will explore characters in the Bible that have found themselves in caves, caverns and dark places.
This second message "How to have hope when you feel forgotten" looks at 2 things: 1) How to prevent feeling forgotten when we're in a season; and 2) How to find hope when we do feel forgotten. Feeling forgotten can cause us to make stupid decisions. One person who didn't make stupid decisions when he felt forgotten was Noah – A man who heard God say build a boat.
Follow along with Pastor Matt here:
Genesis 7:1-5
The Lord then said to Noah, "Go into the ark, you and your whole family, because I have found you righteous in this generation. 2 Take with you seven pairs of every kind of clean animal, a male and its mate, and one pair of every kind of unclean animal, a male and its mate, 3 and also seven pairs of every kind of bird, male and female, to keep their various kinds alive throughout the earth. 4 Seven days from now I will send rain on the earth for forty days and forty nights, and I will wipe from the face of the earth every living creature I have made."5 And Noah did all that the Lord commanded him."
1. How to prevent feeling forgotten during seasons of life…
God's pattern is to speak, then test.
The #1 time we feel forgotten by God, by people, by life – is when we are in seasons of testing.
What do you do in the wait?
Genesis 7:5
And Noah did ALL that the Lord commanded him.
How To Prevent Feeling Forgotten –
Know what He said
Do what He said
Follow Through in what He said
2. How do I get hope when I feel forgotten?
Genesis 8:1
But God remembered Noah and all the wild animals and the livestock that were with him in the ark, and he sent a wind over the earth, and the waters receded.
God remembered Noah.
• Focus on your destination not your situation.
Hebrews 6:19
This hope is a strong and trustworthy anchor for our souls. It leads us through the curtain into God's inner sanctuary.
Pivot our mind, heart, and emotions through prayer.
When we are lost in our situation and cant find a clear path to our destination…. we need a pivot prayer.
What are Prayers that Pivot?
1 – Genuine
2 – Personal
3 – Simple
What is your action step today?
What are you doing that God has spoken to you about?
Do not let another day go by without acting on what God is speaking to you about.