How Do We Hope From A Distance?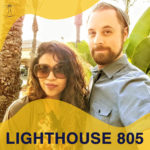 How do you keep hope alive from a distance? Remember the first day of "social distancing", we've been here awhile now. Reflect on some of the actions you had to take at the beginning – setting yourself away, shutting out friends and family, isolating… Remember when it felt abnormal? When you wondered if there was a possibility you could be hurt if you got too close to someone else? This is the next message in our "Can't Cancel Hope" series where we look at people in the Bible going through dark times, places, isolation and how they kept hope alive.
Follow along with Pastor Matt here:
John 4:13-19
13-14 Jesus said, "Everyone who drinks this water will get thirsty again and again. Anyone who drinks the water I give will never thirst—not ever. The water I give will be an artesian spring within, gushing fountains of endless life."
15 The woman said, "Sir, give me this water so I won't ever get thirsty, won't ever have to come back to this well again!"
16 He said, "Go call your husband and then come back."
17-18 "I have no husband," she said.
"That's nicely put: 'I have no husband.' You've had five husbands, and the man you're living with now isn't even your husband. You spoke the truth there, sure enough."
19 "Oh, so you're a prophet!
The woman at the well was socially distancing herself from her own community for several reasons, and these reasons still plague the church today. 
Why do people socially distance themselves in Church and community?
1 – Fear
2 – Past Hurts
3 – Insecurities
The cure to social distancing is Jesus. Jesus deals with our fears, hurts and insecurities. 
John 4:27-30;39-42
27 Just then his disciples came back. They were shocked. They couldn't believe he was talking with that kind of a woman. No one said what they were all thinking, but their faces showed it.
28-30 The woman took the hint and left. In her confusion she left her water pot. Back in the village she told the people, "Come see a man who knew all about the things I did, who knows me inside and out. Do you think this could be the Messiah?" And they went out to see for themselves.
39-42 Many of the Samaritans from that village committed themselves to him because of the woman's witness: "He knew all about the things I did. He knows me inside and out!" They asked him to stay on, so Jesus stayed two days. A lot more people entrusted their lives to him when they heard what he had to say. They said to the woman, "We're no longer taking this on your say-so. We've heard it for ourselves and know it for sure. He's the Savior of the world!"
The key to breaking out of social distancing is….
1 – Be honest with yourself and Jesus
2 – Turn Tragedy into Testimony
Our church is digging deeper into what God has called us to do. And what He has called us to is 'doing life together'.
Your next step today is: messaging someone who is not living with you…
Start with "How can i pray for you today? Here is how you can pray for me."