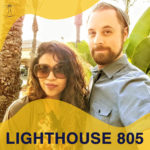 Can I let you in on a secret? Hope wins! Every time. This is the last in our Can't Cancel Hope series. I knew before we started this series the last thing to be spoken was Jesus in the tomb.  In fact, one of the core images in my mind of this series was the picture of Jesus in the tomb; isolated and separated from His friends and people He loved. Waiting to be set free.
Luke 24:1-8:
On the first day of the week, very early in the morning, the women took the spices they had prepared and went to the tomb. They found the stone rolled away from the tomb, but when they entered, they did not find the body of the Lord Jesus. While they were wondering about this, suddenly two men in clothes that gleamed like lightning stood beside them. In their fright the women bowed down with their faces to the ground, but the men said to them, "Why do you look for the living among the dead? He is not here; he has risen! Remember how he told you, while he was still with you in Galilee: 'The Son of Man must be delivered into the hands of sinful men, be crucified and on the third day be raised again.' " Then they remembered his words.
"Why do you look for the living among the dead?"
One of the most powerful statements. Why do you look for hope in dead things?
Hope wins because hope is Jesus.
You ever watch a movie for the first time with someone who already seen that movie? Sitting around spoiling every moment. Ohh this is the best part…
Jesus spoiled the end of the story to the disciples, just like…
Jesus spoils the ending of your story, if you listen.
"Spoiler alert, I love you, see you in heaven. Hope wins." – Jesus
Jesus is our Hope. He knows the plans he has for us. He is telling his plans for you all the time through the Holy Spirit and the Word.
Hope is confident expectation – Jesus was confidently expecting to raise from the dead. 
Hope gets you through.

 

Hope guides you.

 

Hope delivers you…
Hope wins
What are some of the things that Jesus went through before He rose? 
Hope wins through:
Betrayal – Judas and Peter. When those you love let you down.
Attacked – Whipped and beaten – When life hits you over and over, wears on you.
Suffocation – cross – When you can't breathe under the pressure of life, or people, you feel like the life is slowing draining out of you.
Isolation – in cave/tomb – When you are cut off from people you love.
Doing life in the comments – What do you need Hope Winning through? 
doubt, fear, frustrations, anger…
Hope Always Wins… 
…the only time hope fails is when hope is discarded before results.
What do we need to learn so we don't throw hope away? Especially when we are that close to breakthrough?
1 Timothy 1:1

Paul, an apostle of Jesus Christ, by the commandment of God our Savior and the Lord Jesus Christ, our hope,…
1 – Live in Your Shoes
The first thing Paul says is his name. It's who he is. If you try and be someone else you will constantly be let down. You are trying to obtain something that doesn't belong to you. And Jesus is too good to let you have something that doesn't belong to you.
2 – Live in His Authority
An apostle of Jesus – apostle means "sent one" – Paul was sent by Jesus. He was not acting on his own will but the will of Jesus. Granting the full authority of Jesus over his actions.
When we start living in the authority of Jesus we gain clear direction and lose unclear wandering.
3 – Live in Your New Life
God is the author of your life. He gave you a new life, will you live in it??
Where you came from does not cancel where you are going.
Stop dropping Hope because of your past.
Accepting Jesus as savior gave you a new life.
Remember what the angel said at the tomb – Why do you look for the living among the dead?
Look for Hope in Jesus
Your next step this week – Pick up dropped Hope. Because Hope wins. 
Maybe you dropped hope in an area. Maybe you know someone who dropped hope.
_______________________________________________________________________________________
CHECK THIS OUT!
Our new sermon series starts next week – "Faith Check"
We spent time on Hope. Now we are diving into faith. We will be hyper-focusing in the book of Jeremiah throughout this series.
I want to encourage you to do 2 things:
1st – Get a new journal to write everything the Holy Spirit will speak to you through the entire series.
2nd – Invite someone to watch or listen to a message in the upcoming sermon series. Share a video with them, start a watch party and tag them. Tag them in a comment. Start praying now for who that will be.