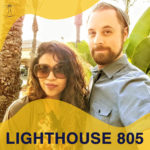 Here at Ventura Lighthouse Church we're exploring The lands of The Happiest Place On Earth; as it relates to true happiness. It's not a destination, it's a journey with Jesus that builds and sustains happiness. Today we look at Frontierland – moving forward with Christ into new territories unexplored. Because like our life with God is just like Big Thunder Mountain; "The Wildest Ride in the Wilderness"!
Follow along with Pastor Matt's notes here:
Matthew 2:1 After Jesus was born in Bethlehem village, Judah territory— this was during Herod's kingship—a band of scholars arrived in Jerusalem from the East.
1 – Love Is Patient, Love Is Fantasmic!

A – Knowledge
B – Routine
C – Like Company
2 – Be Strong And Courageous On Thunder Mountain

A – Out Of Comfort
Matthew 2:22 They asked around, "Where can we find and pay homage to the newborn King of the Jews? We observed a star in the eastern sky that signaled his birth. We're on pilgrimage to worship him."
B – Through The Valley
Matthew 2:7-8 Herod then arranged a secret meeting with the scholars from the East. Pretending to be as devout as they were, he got them to tell him exactly when the birth-announcement star appeared. Then he told them the prophecy about Bethlehem, and said, "Go find this child. Leave no stone unturned. As soon as you find him, send word and I'll join you at once in your worship."
C – To Divine Moments
Matthew 29-10 Instructed by the king, they set off. Then the star appeared again, the same star they had seen in the eastern skies. It led them on until it hovered over the place of the child. They could hardly contain themselves: They were in the right place! They had arrived at the right time!

3 – And I Will Give You Rest On Tom Sawyer Island
Matthew 2:11:11 They entered the house and saw the child in the arms of Mary, his mother. Overcome, they kneeled and worshiped him. Then they opened their luggage and presented gifts: gold, frankincense, myrrh.
A – Worship
B – Honor
C – Purpose