Camp – Preparing for Seasons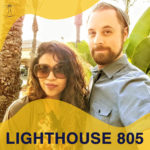 This morning at Ventura Lighthouse Church we're starting a new sermon series – Camp. Did you know God operates in our life from season to season? Each one has a purpose and each one – like a camping trip – requires preparation. Are you prepared to pull up stakes from the current camp site? Are you ready for the next trip or adventure?
---
Here's an outline of todays discussion:

1 – When You Fail To Prepare

Genesis 13:8-13 So Abram said to Lot, "Let's not have any quarreling between you and me, or between your herders and mine, for we are close relatives. 9 Is not the whole land before you? Let's part company. If you go to the left, I'll go to the right; if you go to the right, I'll go to the left."
10 Lot looked around and saw that the whole plain of the Jordan toward Zoar was well watered, like the garden of the Lord, like the land of Egypt. (This was before the Lord destroyed Sodom and Gomorrah.) 11 So Lot chose for himself the whole plain of the Jordan and set out toward the east. The two men parted company: 12 Abram lived in the land of Canaan, while Lot lived among the cities of the plainand pitched his tents near Sodom. 13 Now the people of Sodom were wicked and were sinning greatly against the Lord.
A – Costly
B – Lead by sight
C – Season doesn't end
2 – What You Need To Pack
A – Pack Your Clothes
1 Peter 5:5Likewise, you who are younger, be subject to the elders. Clothe yourselves, all of you, with humility toward one another, for "God opposes the proud but gives grace to the humble."
B – Pack Your Food
John 6:35Jesus replied, "I am the bread of life. Whoever comes to me will never be hungry again. Whoever believes in me will never be thirsty.
C – Pack Your Tools

3 – What You Need To Know
A – It's Temporary
Psalm 23:4 4 Yea, though I walk through the valley of the shadow of death, I will fear no evil: for thou art with me; thy rod and thy staff they comfort me.
B – You're Not Alone
C – You're There On Assignment