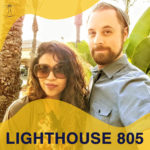 Welcome back to Ventura Lighthouse Church and the 4th episode of our Camp series where we're exploring the way God moves seasonally in our lives. This week we're looking at the Tent. A key component to any camping experience – a symbol of shelter and protection. But sometimes we can get comfortable with that shelter & protection and settle in. It was never meant to be a permanent abode… Remember, the real adventure begins outside your tent. This podcast would be great to listen to while camping in Ventura. So next time you are at Emma Wood, McGrath or Point Mugu remember you tent.
Notes to follow along with Pastor Matt…
Genesis 15:1-3
1 The Lord spoke to Abram in a vision and said to him, "Do not be afraid, Abram, for I will protect you, and your reward will be great."2 But Abram replied, "O Sovereign Lord, what good are all your blessings when I don't even have a son? Since you've given me no children, Eliezer of Damascus, a servant in my household, will inherit all my wealth. 3 You have given me no descendants of my own, so one of my servants will be my heir."
1 – God's Gifts In Our Seasons
A – Addresses Our Fear
B – Safety
C – Inheritance

---
2 – Your Responsibilities In Your Seasons

Genesis 15:4-6 Then the Lord said to him, "No, your servant will not be your heir, for you will have a son of your own who will be your heir." 5 Then the Lord took Abram outside and said to him, "Look up into the sky and count the stars if you can. That's how many descendants you will have!"6 And Abram believed the Lord, and the Lord counted him as righteous because of his faith.
A – Change Your Perspective
B – It's About People
C – Trust God With Your Actions
---
3 – God's Commitments In All Seasons

Genesis 15:7-11 Then the Lord told him, "I am the Lord who brought you out of Ur of the Chaldeans to give you this land as your possession." 8 But Abram replied, "O Sovereign Lord, how can I be sure that I will actually possess it?"9 The Lord told him, "Bring me a three-year-old heifer, a three-year-old female goat, a three-year-old ram, a turtledove, and a young pigeon." 10 So Abram presented all these to him and killed them. Then he cut each animal down the middle and laid the halves side by side; he did not, however, cut the birds in half. 11 Some vultures swooped down to eat the carcasses, but Abram chased them away.

A – Committed To You Always
B – Committed To Speak
C – Committed To Covenant