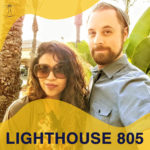 This Sunday at Ventura Lighthouse church, we're continuing our series about the Happiest Place On Earth; with a stroll through Adventureland. Happiness is not a destination, it's a journey with God. Will we be distracted by the Tiki Room before we ever enter into the adventure? Are you expecting a smooth little boat ride through the jungle? Do you think you can steer your own way through the Temple of Doom? Life is much more than our expectations if we're willing to get onboard with God.
Follow the adventure with Pastor Matt's notes here:
Luke 1:26-33 "26 In the sixth month of Elizabeth's pregnancy, God sent the angel Gabriel to Nazareth, a town in Galilee, 27 to a virgin pledged to be married to a man named Joseph, a descendant of David. The virgin's name was Mary. 28 The angel went to her and said, "Greetings, you who are highly favored! The Lord is with you."29 Mary was greatly troubled at his words and wondered what kind of greeting this might be. 30 But the angel said to her, "Do not be afraid, Mary; you have found favor with God. 31 You will conceive and give birth to a son, and you are to call him Jesus. 32 He will be great and will be called the Son of the Most High. The Lord God will give him the throne of his father David, 33 and he will reign over Jacob's descendants forever; his kingdom will never end."
1 – For I Know The Adventure I Have For You
A – Entertained
B – Preoccupied
C – Overwhelmed

---
2 – More Than I Bargained For
Luke 1:34-37 "34 "How will this be," Mary asked the angel, "since I am a virgin?"35 The angel answered, "The Holy Spirit will come on you, and the power of the Most High will overshadow you. So the holy one to be born will be called the Son of God. 36 Even Elizabeth your relative is going to have a child in her old age, and she who was said to be unable to conceive is in her sixth month. 37 For no word from God will ever fail."
A – I Don't Understand
B – I'm Not Qualified
C – I'm All Alone
---
3 – Living Adventurous
Luke 1:38 "I am the Lord's servant," Mary answered. "May your word to me be fulfilled." Then the angel left her.

A – Setting Expectations
B – Know There Will Be Danger
C – God Took The Wheel